Fully Booked with Colour Clients 4-Day Challenge
"You've done some training and now you're ready to make some money, or to use your colour skills to make a difference"
The problem most image consultants face is how to find people who are interested in what you have to offer
Join my brand-new FREE 4-Day Challenge to learn how to get Fully Booked with Colour Clients and create a never-ending queue of new clients too!
introducing the…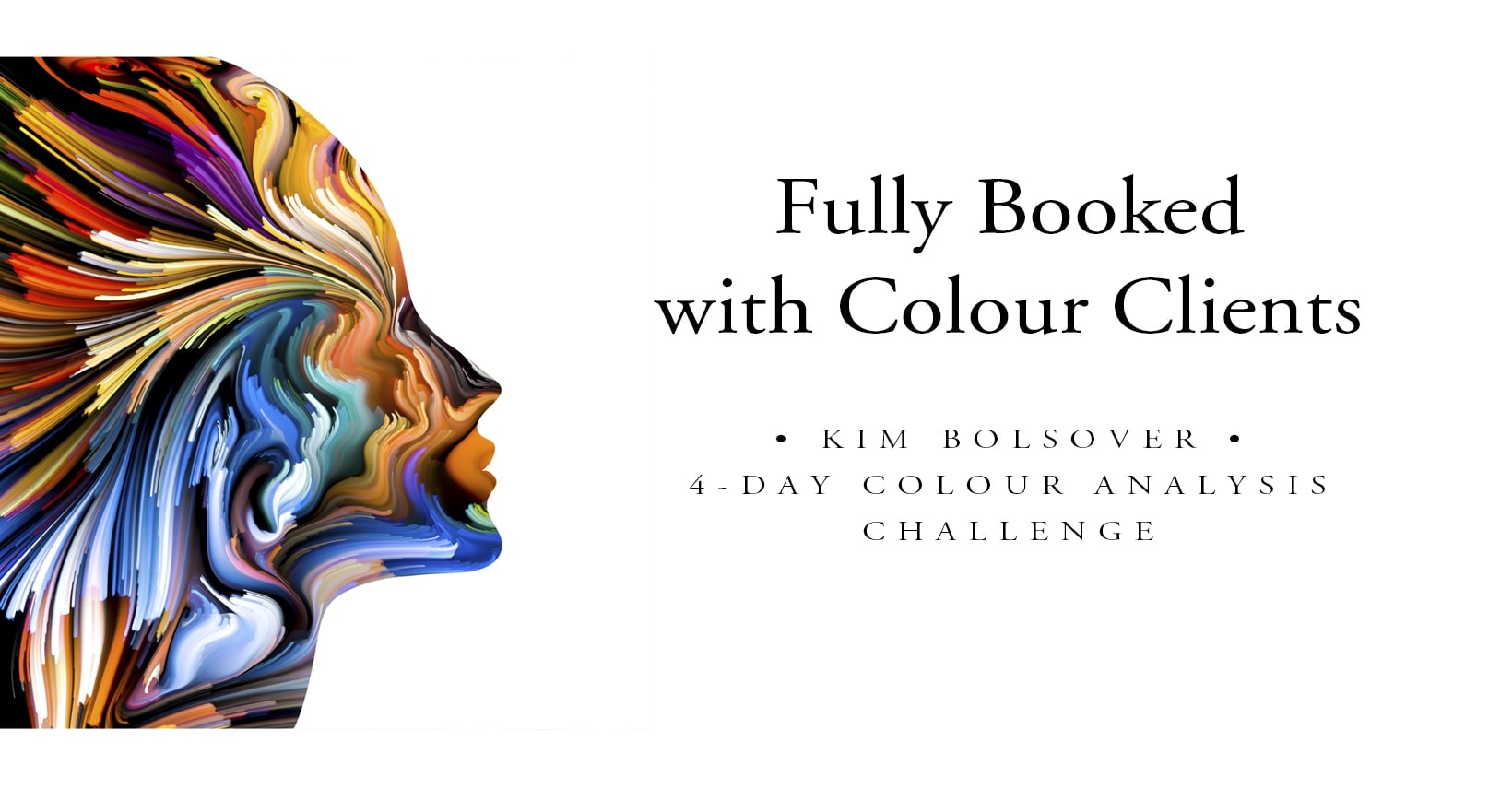 Here's what you will learn
You've done some colour analysis training already and now you're ready to make some money, or you want to use your colour skills to make a difference.
But whether you want to earn money or not, you need to be able to find those people who are interested in what you have to offer.
To keep things simple, and for the rest of this challenge, I'm going to call them 'clients'.
You might be wondering,
I've spent good money on training. How do I make back my investment?
Is colour enough on its own, or do I need to add style, wardrobe, etc. to create a successful business?
What do I need to do to find clients, and what do I say to them?
Where do I find promotional ideas that actually work?
The 4-Day Challenge includes
It's clearly time to get all those ideas and questions OUT of your brain onto paper… By the time you've completed the simple tasks in this 4-day Challenge you will have discovered:
1. What sort of business you want
What you will be offering
Who you will be offering it to!
2. Two easy ways to find clients and exactly what to say to them, so that you can
Start getting Fully Booked with Colour Clients straight away
Get a never-ending supply of potential new clients
I'll also share my own personal secret marketing method that has brought me more clients than I could actually handle. On several occasions when I used to run my own personal colour & style business, I had to stop looking for new clients because I had a waiting list that would keep my diary fully booked for 3 – 6 months ahead
You'll have exclusive access to our private challenge members-only Facebook group, where you'll meet colour-mad consultants just like you
Each day, I will post one short video in the group. This will contain one action item for you to complete and post your results, and how it made you feel, in the comments
I'll be diving in and out of the FB group every day, answering your questions and 'encouraging' you to do the tasks so that you can actually start getting Fully Booked with Colour Clients straight away
An award-winning mentor, trainer, speaker, and author, Kim Bolsover, is also an independent trainer for Wella UK's Master Colour Expert trainers. Kim has 38+ years' experience teaching colour, style and image, appearance, behaviour and communication, and in coaching and mentoring image consultants and entrepreneurs to build their own successful businesses.
Things you didn't know about Kim Bolsover – I'm not going to bore you to tears with a conventional 'about me' business page, let's have some fun with this… Did you know I created the very first professional matching service for rally drivers? I helped match up drivers with co-drivers across the globe for single events and entire championships.
Did you know I'm the original Orca Girl? Whilst watching killer whales from the back of a boat off Vancouver Island, a large adult orca swam directly at me. It rolled onto its side as it passed by at my feet and looked me straight in the eye. I could have leant over the side and touched it… One of those moments that I will never forget.